At Fastwalls, we believe that the design stage is one of the most important aspects of the project; a thoroughly planned and well-designed project can produce tremendous cost-saving benefits. Our team focuses on the prefabrication options and how we can panelize each individual project. We look at efficiencies within our scope, review possible design changes, and make suggestions regarding structural steel, gauge of material, and clip options. Panels and panel layouts are designed by our engineering team based on the following design aspects and factors: loads, structural integrity, limit states, and deflection criteria. Project location aspects also influence the specific load designs including snow loads, earthquake loads, and wind loads.
As we move to the pre-construction phase, our team focuses on the details in the panel tickets and layouts. All of the Fastwalls shop drawings are designed, produced, and analyzed in BIM technology to ensure constructability. BIM also allows us to run a clash test to predict and prevent conflicts during construction. We submit the cold-formed steel engineering design and calculation package of our panel design to the engineer of record for final approval prior to commencing the fabrication process. Material procurement follows EOR approval and is completed in-house to ensure quality materials and eliminate material delays.
During the fabrication process, panel layouts and shop drawings are analyzed in detail with our factory production managers and pre-construction team. Quality control check-points occur to ensure steel stud layout connection details and screw patterns are accurate based on panel tickets. We work closely with general contractors to coordinate panel sequencing and phasing plans during the factory fabrication to guarantee proper trailer loading and timely delivery to the job-site.
In the final stage, panels are loaded onto trailers and delivered to the job-site in the order that they will be installed, which increases efficiency for hoisting and installation. This process is a proactive, effective, and highly efficient way to build as it takes trades off-site, reduces onsite labor, and increases safety.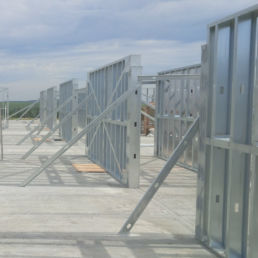 Load-Bearing
Our load-bearing system lets you harness the strength of light gauge steel. Exterior and interior wall panels create the structure of the building and take on the load capacity from the foundation up.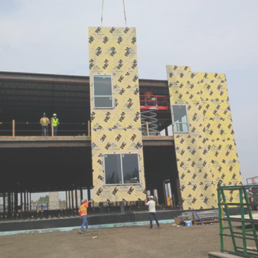 Bypass
Our bypass framing system provides one of the quickest ways to close in a building. The exterior steel stud runs past the structural steel or concrete structure. These wall panels can span multiple stories and can be used on any size building.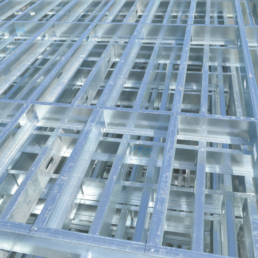 Custom Prefab
Fastwalls is not limited to the prefabrication of walls. We can fabricate other CFS elements such as roof trusses, floor joists, and architectural elements to meet design requirements.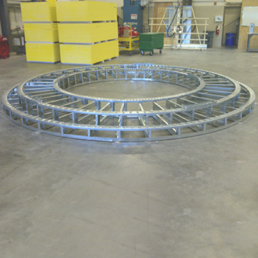 Soffits & Bulkheads
Fastwalls has created and delivered a superior alternative to onsite soffit framing. The most complex architectural and detailed framing work can be prefabricated and delivered in sections ready to be installed.